Blues Highway – U.S. Route 61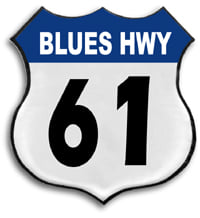 In the early 1800s on plantations in the Mississippi Delta, African-American laborers created a unique culture. And blues music arose from that Delta culture. It was a new kind of music, mostly expressing woe about various aspects of plantation life. But blues music was also an emotional outlet for venting feelings about joy — or sorrow — in personal relationships. Blues musicians moved up and down the Delta to play at juke joints, Saturday night parties, or front porches. For getting around, Highway 61 was the Main Street of the Delta.
By the 1940s, mechanization of farm work (the tractor), together with World War II, caused the Great Migration of African-Americans from the Delta. This migration was mostly to points North, and Highway 61 served as the main route. Blues music thus was spread far and wide, and Highway 61 became affectionately known as the "Blues Highway". Over time, Highway 61 has evolved into an icon of American music.
In celebration of this iconic landmark, Jubilee Ltd presents the Blues Highway line at CafePress.com.